There can't be many better ways to spend a workday than cleaning up a beach on a beautiful, sunny fall afternoon. Save the Harbor was lucky enough to join nearly 100 BlueCrew members from Blue Cross/Blue Shield in a clean up on Carson Beach this Tuesday. This is just one of the many volunteer efforts of Blue Cross/Blue Shield as part of their Massachusetts Service Day projects.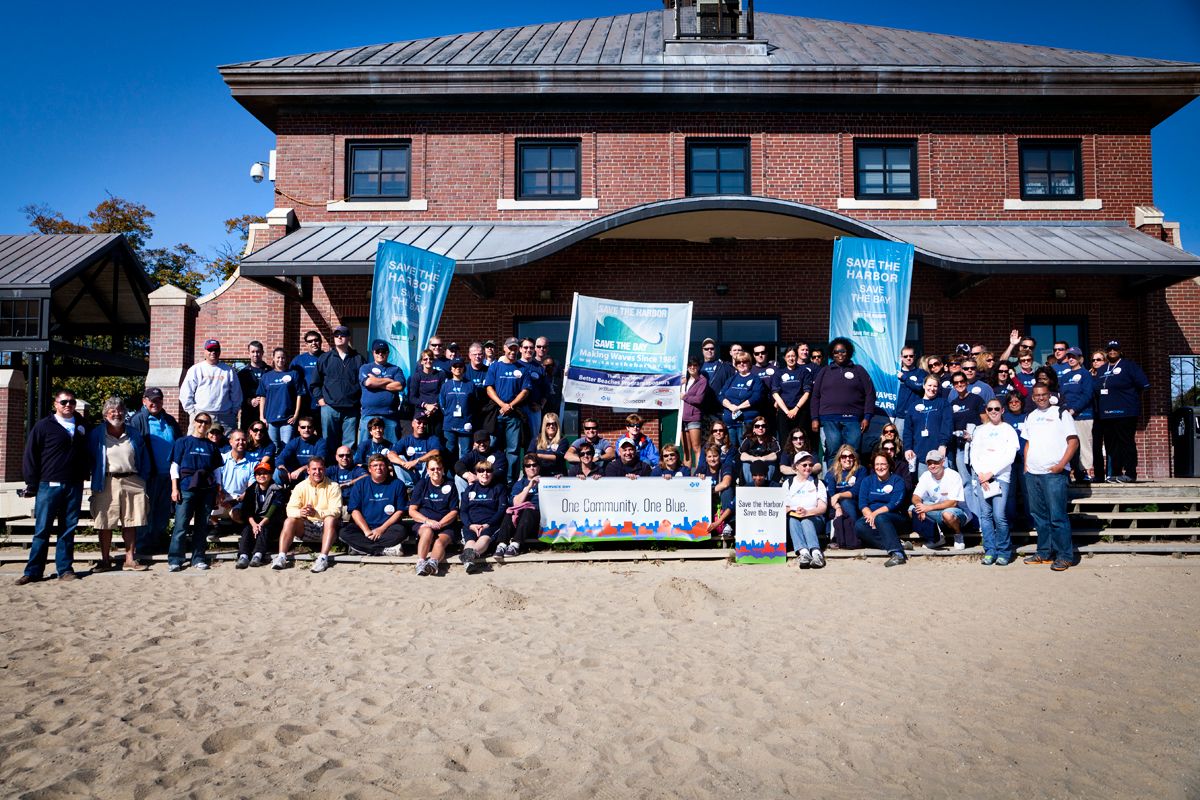 The BlueCrew gathers to start the day of service
The crew was divided into 8 teams and scattered to cover the entire stretch of beach. I hopped in to join "Foley's Team," dubbed for group leader, Tom Foley of Somerset. We headed out towards the gazebo, working our way back towards the center of the beach. Our group had a great attitude, smiling and joking the entire day. Foley served as a great leader, eagerly pulling out weeds along the beach and cracking jokes with his peers.
Sean Sullivan, of Dartmouth, and Tom Foley, of Somerset, chatting and weeding
We were so efficient that we finished our area by lunchtime! There were roughly 10 bags of trash and weeds from our group by this time already. Our spirits were high and our tummies ready for lunch. But on the walk back to the beach house, a stray plastic bag started making its way towards the water. Odette Palmer-Lee of Boston quickly ran off to catch it, and returned with the grin of success on her face!
Odette Palmer-Lee captures her prey- a stray plastic bag!
After our lunch break, we continued our weeding efforts for the rest of the day before joining the rest of the teams for final reflections and much-deserved praise of the BlueCrew's service accomplishments. I think it's safe to say that everyone had a wonderful time spending their day chatting with friends, enjoying the weather, and working to make Carson Beach an even more enjoyable amenity of Boston.
"Foley's Team" with Chris Davis, Odette Palmer-Lee, Sean Sullivan, Claire Tigges, Tom Foley, Todd Linsky, Cori Linsky, and Holly MacMillan.
Jacqueline
Jacqueline Sussman
Policy Intern
Save the Harbor/Save the Bay