Today at the children museum it was a warm day. The group and I went into the supply room to get set up for fishing 101 in front of the museum. As I was finishing setting up all the supplies I looked around and could barley see any kids. In the mornings there weren't usually as many children as there are in the afternoon. While I was cutting the bait the children would ask me many questions, for example why was I using fish as bait and why do fish eat other fish.
I think the children really enjoy fishing and being able to do hands on activities with the fish and green crabs. Everyday I learned something new either about the children and people who came to fish with Save the Harbor/Save the Bay or just about the program itself. A lot of people who pass by us when going into the museum find it very interesting and exiting that we get to teach and show the children about life under the sea. At the museum with Save the Harbor Save the Bay we mostly catch green crabs from Europe ,choqui fish and sometimes spider crabs. Sometimes if we get lucky we even catch striped bass.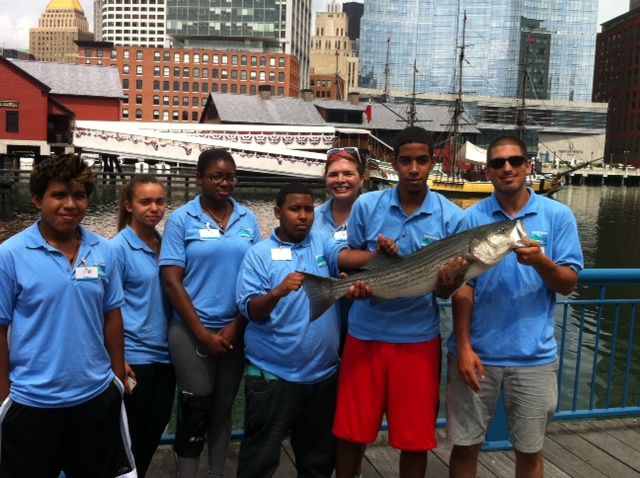 As this program is coming to an end I feel like I've had a wonderful summer with Save the Harbor Save the Bay. I've had fun going to the harbor islands for the first time and being able to enjoy many boat rides. Nothing beats my favorite event which was the Beach Bash & Splash with all of the Save the Harbor Save the Bay staff. We all had a great time! Being able to be a part of Save the Harbor/Save the Bay gave me a good feeling inside. They are all great, kind, and wonderful people who I won't forget. Working with the staff was another wonderful thing, being able to meet new people and learn from each other is good.
-Edward C