Our trash-collecting team!
Welcome back,
Me with a Skate!
This week I did something I never done before: KAYAKING. Although I'm not that scared of the water due to my swimming abilities, I was terrified of capsizing. My fear of not knowing what's in the water is what truly scares me. I'm slowly but surely becoming more comfortable though! Kayaking as a group was a way to get some time for staff enrichment but it was mostly done to collect trash in the Fort Point Channel. If we all take a little time per day to clean up trash, we would make a great impact. This week All Access was at Spectacle Island. It was a week of trying new things. I held a skate for the first time which was delightful, sort of. It was slimy and spiky, which was not pleasant, but at the end of the day I was glad I got to experience it. Our first ever beach bash was this week as well and I had a blast. There was about 8 different activities that were available for the kids who showed up. Some were kayaking, sand raking, sports, fishing, touch tanks, and more! I was smiling all day watching the kids enjoy their day at the beach with their families and friends.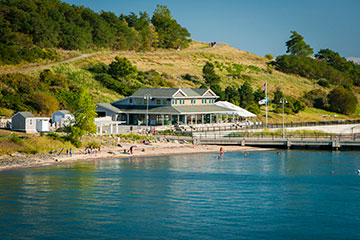 All Access has the opportunity to work on an island that has been through an immense amount of changes throughout its existence. Spectacle Island was first used as a trash dump for 100 years until environmental efforts wanted no more trash blowing into the Harbor. They knew there was too much trash, because a bulldozer fell into the pile and disappeared. The easiest way to get rid of all the trash was to burn it, so that's what they did. It burned for 10 years! After that, dirt from the Big Dig. Now that there is dirt on the island, they were able to plant trees and grass on it to make it look beautiful. On its shore, you can find lots of sea glass! Since glass doesn't burn easily, there is much left over from the trash island.
An Island we pass everyday is Deer Island. If you don't know what it looks like, it's the island with the big egg shaped white tanks! This island was first was used for
Native
Americans during King Phillip's War but is now used for a water treatment facility. Deer Island plays a big role in cleaning up the harbor because our bathroom pipes aren't being dumped in the water anymore. Thankful it is more maintained and sanitary.
Thank you for tuning in on this weeks adventure see ya next week,
-Keren