All Access has always been a dream sight to work on, so I was over the top excited to see what was in stored for me!
We begin our day meeting up at the Bank of America Pavilion. As we take a range of 100-400 people a day, one might think, well how do you gather and control hundreds of strangers? The answer is simple. We first take every group's photo.
Folks from Idiil Learning Center
Then we do one of two things. Option A- We color in different marine related animals: crabs, star fish, sea gulls, seals, and striped bass.
Option B- Pull up the lobster traps to discover what we may or may not have caught! Usually we catch green crabs, and if we're really lucky, we would catch lobsters! Kids are always excited to help pull up the lobster trap and love it when we catch something!
Me throwing the trap back into the water.
Just before we all board Provincetown II, the boat that takes us to either George's or Spectacle Island, David delivers a humorous speech outlining expectations and do's and don'ts on the island.
If you have ever accompanied us on any of our trips out to the islands, you would recall David looking a little like this:
David speaking to our Harbor Guess.
By now summer staff are most likely receiving questions like, "When are we going on the boat?" Well the answer is now. we guide our guess on a five minute walk along the harbor and then we're greeted by this beauty we call Provincetown II.
The HUGE boat we ride to Gorge's and Spectacle Island.
Provincetown II is Boston Harbor's largest cruise ship that can hold 100-1100 passengers! It is certainly the largest boat that I have ever boarded!
Eyes open up. "WOW, that's the boat we're going on?" Kids then get even more excited to board and see what exactly is on this huge boat and search for things to do. It's always a great time on the boat.
She was participating in a hullahoop contest!
A group of brave kids are about to go through the fort!


There are countless activities to do on both George's and Spectacle Island. George's Island is known for the scary Fort Warren where the women in black resides. If you haven't already heard the story, you're missing out! In short, there is a lady who died a few years ago on Gorge's Island, but every so often people report seeing footprints that go in an entire circle, with no end and no beginning.
If the fort doesn't appeal to you then there is always sports on the field, fishing on the dock, or walking along the beach!
On Spectacle Island, people are free to play Frisbee, sports, search for beach glass, fish, and SWIM! There are always life guards on duty and the weather is almost always perfect for swimming!
And take it from me... you want to go swimming or else...
David pulling me in the water!
All in all, going out to the islands is an extraordinary opportunity, and we are all glad to share it with all!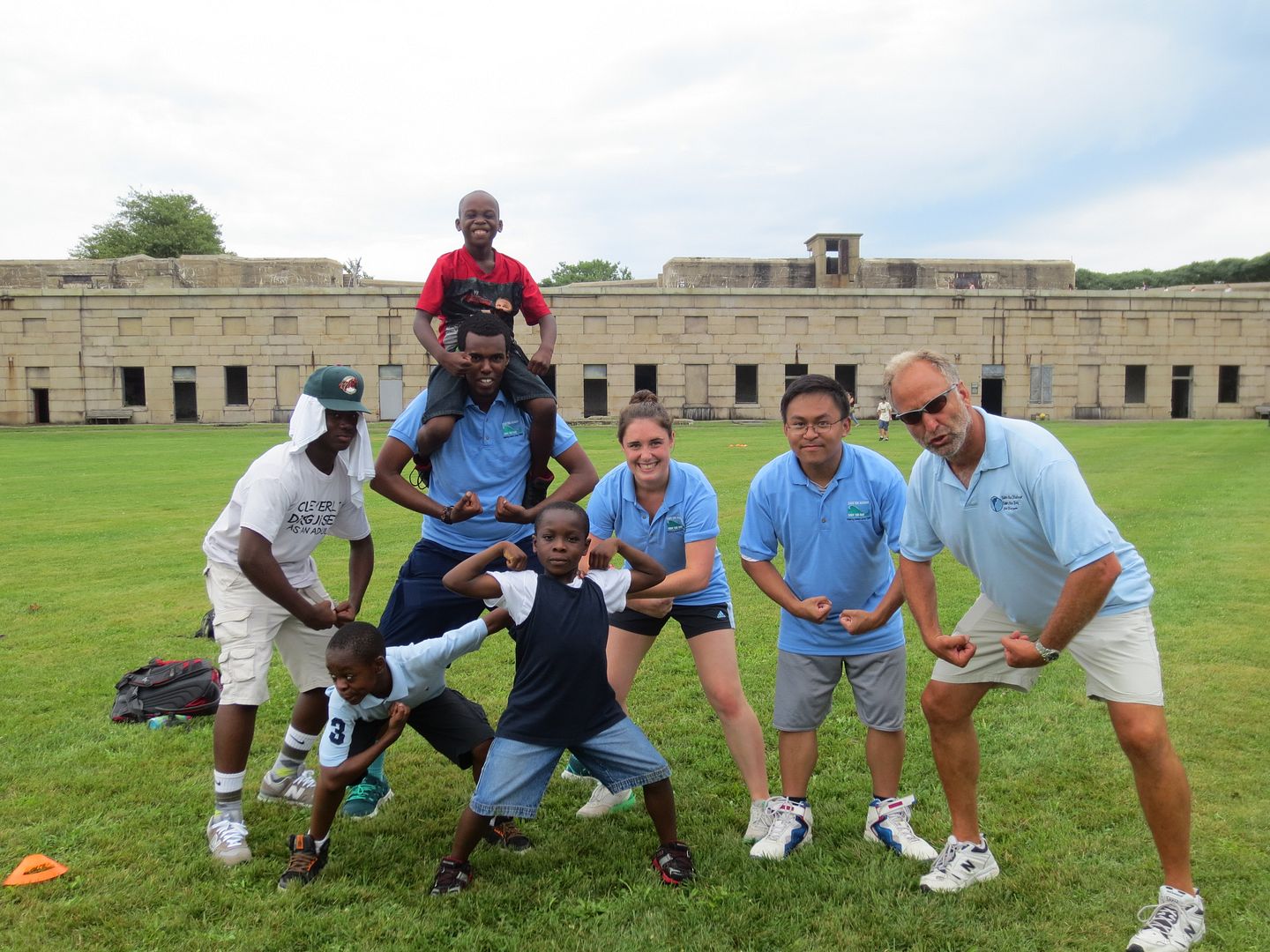 Ahem, Carolyn, Hung, and David flexing with some campers!
Hopefully I'll see you soon!
Karrisha Gillespie