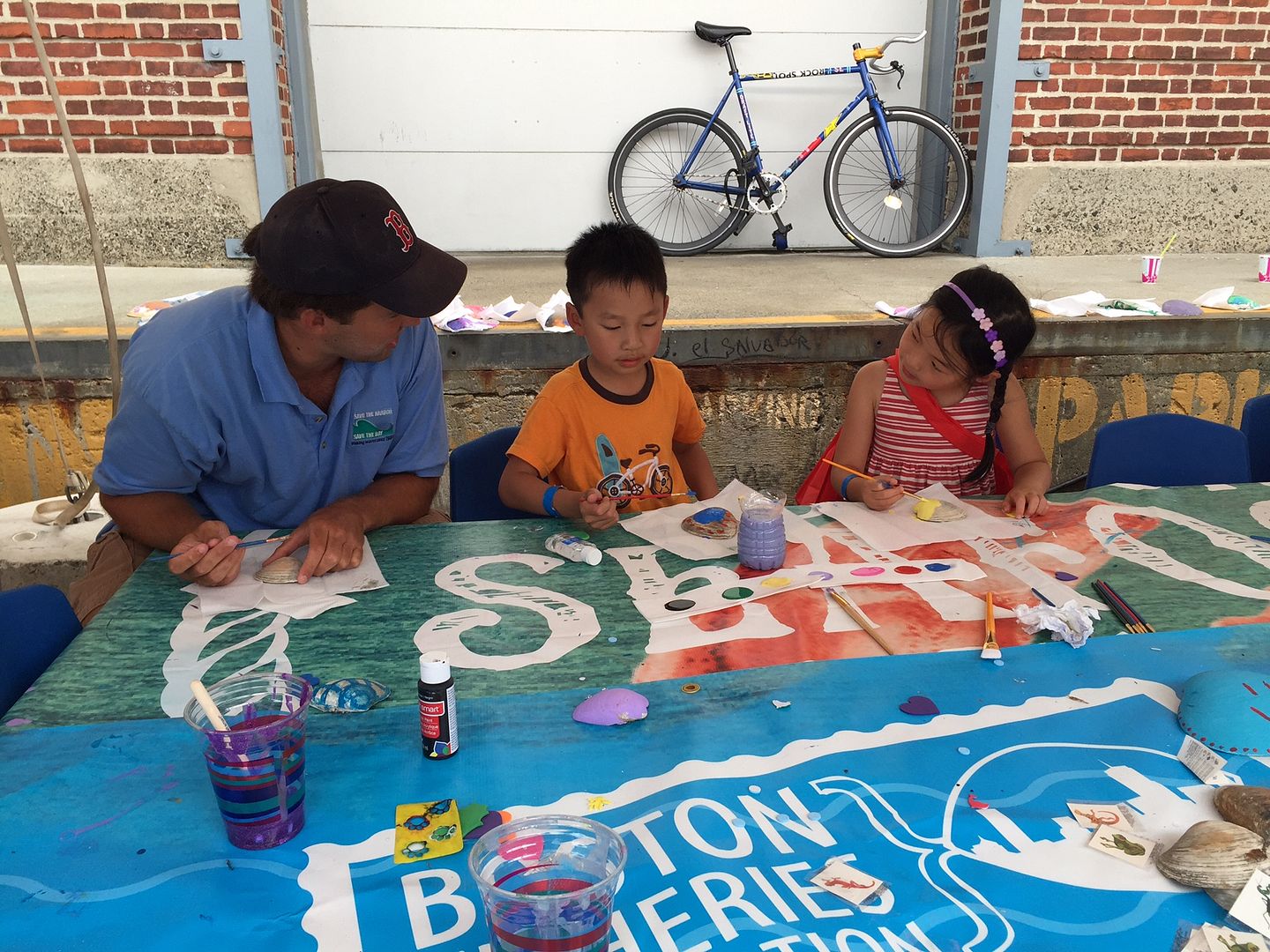 Earlier today, the Boston Seafood Festival took place on the Fishing Pier. It was a big event with tents and stages setup along the entire pier; all the way from the busy road at the pier's mouth, to where the pier meets the water at it's very end. These tents were filled with fresh seafood for sale, and sometimes for free. The main attraction at this event may have been the live cooking lesson, where a professional chef displayed how to prepare and cook a seafood dish. The delicious smell from this event wafted along the entire pier. There were also slush stands, ice cream trucks, and a ton of games and activities that families and kids that attended the festival could enjoy. The Save the Harbor tent was packed to the rim with families who partook in our fish printing and shell painting stations!
We had hundreds of shells on site for kids to paint, and I think most of them are now decorated and covered in colors. The tent was bustling all day! I had the pleasure of entertaining two shell painters-named Emma and Aiden, who suggested that we all paint dolphins. Emma and Aiden made their dolphins light blue, like a real dolphin, and black, respectively. I painted the dolphin green because I've never seen a green dolphin before, and to be honest with you, I wanted to see a green dolphin. They were great designers. Afterward, they instructed me to create an octopus with rainbow colored tentacles, who they named "Rainbow." We had a good laugh at how funny Rainbow came out.
I also tried my hand at fish printing, which we've done a few times at Piers Park: Home of the Original Fish Printed T-Shirt. We painted real flounder with colors and patterns that anybody wanted, then pressed them onto paper and t-shirts. The paper makes great refrigerator decorations, and the t-shirts are awesome souvenirs that are made with your own unique creations.
This event was amazing, but I'm hoping that next time, Saver the Harbor will partner with a Pizza Festival or Chili Contest; I'm not a huge fan of seafood.
-SEAN